On August 4th   at 11:30 AM, the 786 Club will continue its quarterly luncheons in the beautiful Crystal Room which feature guest speakers from the active duty leadership of the US Submarine Force.
The guest speaker on Wednesday, August 4th, in this beautiful Crystal Room, will be Rear Admiral Rick Seif, USN whose extensive career in the US Submarine Force recently included Chief of Staff to the Commander, Submarine Force, Pacific Fleet (ComSubPac). He is currently the Commander, Underwater Warfighting Development Center (UWDC) located in Groton, CT. The UWDC develops weapons, doctrine, Operations, Training, Material, and Leadership to ensure our Submarine Force maintains undersea superiority and combat lethality in the "undersea domain", which stretches   from outer space to below the Arctic Ocean. Various types of drones and Artificial Intelligence (AI) are within the UWDC scope. Drones, Artificial Intelligence (AI), and other items act as "Force Multipliers" to compensate for the USA's shrinking numbers of submarines (and our enemies, China and Russia, each commissioning 6 new submarines annually. His presentation topic is: "Drones, AI, and Other Force Multipliers: How We Stay Ahead of Our Enemies."
Optional items: In anticipation of the 786 Club's upcoming visit to Pearl Harbor in January, we  encourage all to wear Hawaiian attire for this luncheon, e.g., Aloha shirts for men; Muumuu's for ladies. In addition, if you have a short greeting (10 or 15 seconds) for the crew it can be recorded as part of an edited videotape which will be sent to the submerged crew of the USS ILLINOIS. They enjoyed our first such videotape.
Please be aware that there is parking adjacent to the Union League Club on Federal Street.  It is a secure multi-level lot with elevators.  You would have to walk outside about 50 feet to the entrance to ULCC.  When departing ULCC, you can pay for your parking in the ULCC (first floor) at a significantly reduced price of $13. 
Play short video clip of the event by clicking here.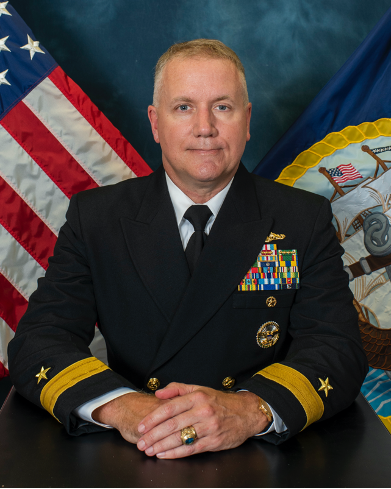 Rear Admiral Richard E. Seif
Rear Admiral Seif is a native of Pittsburgh, Pennsylvania. He graduated from the United States Naval Academy in 1992 with a Bachelor of Science in Marine Engineering. He also holds a Master's in Business Administration from the College of William and Mary's Mason School of Business.
At sea, he has served aboard five nuclear fast attack submarines and commanded USS Buffalo (SSN 715). During this tour, he conducted extensive operations in the Western Pacific, and the boat was awarded the Navy Unit Commendation, the Meritorious Unit Commendation, two Battle Efficiency awards, and the Arleigh Burke Fleet Trophy. He also commanded USS Jacksonville (SSN 699), completing a 5th and 7th Fleet deployment. Most recently, he served as Commodore, Submarine Squadron One and Chief of Staff to Commander Submarine Force, U.S. Pacific Fleet.
Ashore, he served as the Military Assistant to the Assistant Secretary for Defense for Strategy, Plans, and Capabilities; Deputy Chief of Staff for Operations for Submarine Group Seven/Task Force 74 in Yokosuka, Japan; the Navy's National Director of Submarine and Nuclear Power Recruiting; Board Member and Executive Officer of the Fleet Forces Command Nuclear Propulsion Examining Board; and Flag Aide to Commander Submarine Force, U.S Atlantic Fleet/Submarine Allied Command Atlantic.
His personal decorations include the Defense Superior Service Medal (two awards), Legion of Merit (three awards), Meritorious Service Medal (four awards), Joint Commendation Medal, Navy and Marine Corps Commendation Medal (five awards), and Navy and Marine Corps Achievement Medal (three awards). He has served with crews that have earned seven Battle Efficiency awards, two Arleigh Burke Fleet Trophies, and various unit and campaign awards.​